While enjoying the holidays with your pets, pay attention to a few things to prevent them from being potentially dangerous. You may be wondering how I can keep them safe at Christmas? Let's go together!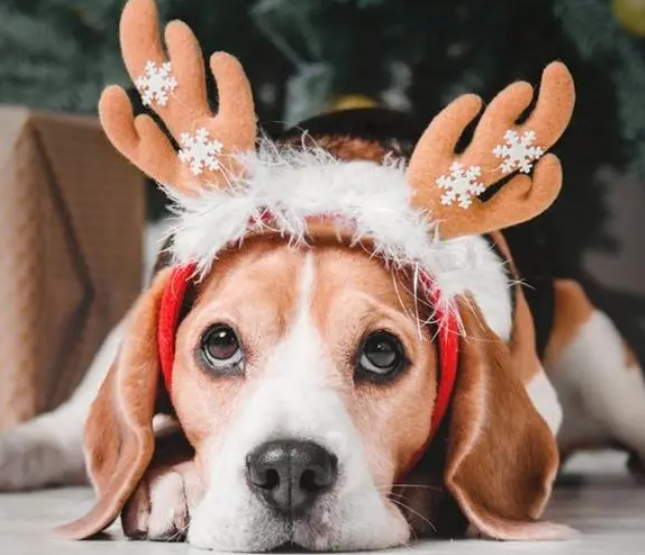 Christmas is certainly a time for indulgent fun, but the many treats we eat can be harmful to our pets. Make sure the following foods are kept away from your pet and stored out of the reach of small PAWS.
⬤  Alcoholic beverage
⬤  grapes
⬤  Raisin
⬤  nuts
⬤  Chocolate
⬤  Onions and garlic
⬤  Bones of other animals
Always be extra vigilant about the foods mentioned above and keep your dog away from them.
Christmas trees and decorations
The oil produced by

some fir trees is mildly toxic

and may cause your dog to

vomit or drool excessively

if ingested.
It is best to choose a Christmas tree that does not fall off, lest the

sharp nails accidentally stick

into the pet's PAWS, or be

eaten by the pet

and

cause internal damage

.
Tree decorations can also be dangerous for your puppy.
These gadgets look an awful lot like your dog's favorite ball toys, so your dog may not be able to tell them apart until they

bite into the glass ball

or

step on a broken ornament

and

damage the paw pad

.
Wrapping paper, ribbons, and tinsel may be your dog's favorite things to play with, but please keep them away from these items as they can

cause tummy upset

. So make sure they're

out of reach or tucked away

.
 

Next let's talk about what kind of Christmas dog toys can be used as pets? Treat your loyal friends this Christmas. The following toys always have a suitable for their own baby.
Christmas dog toys---TOP 1
First, we use safe materials for this toy.
Plush toys
are made of high-quality, durable and non-toxic
natural cotton
and
natural rubber
, which is safe for your dog. Cotton woven legs make toys more durable and bite resistant. There's a waterproof layer inside to keep your dog's saliva out of the batting. 
Secondly, it can relieve the dog's anxiety,
Christmas dog plush toys
are suitable for indoor or outdoor play, enrich the dog's daily exercise, keep the dog active and healthy, release emotions, prevent damage to furniture, increase the pet's daily entertainment, reduce their depression, boredom and anxiety when they are alone.
This durable dog toy has a lightweight elk shaped design, it would be the perfect toy for small
,
medium and large dogs (not suitable for extremely aggressive chewing), dog toys are very easy to clean, just water and wash the toy after playing.
In addition, chewing with these
rope toys dogs set
can help massage your pet's gums and relieve stress and anxiety. It also helps to
clean teeth
for your dogs and maintain your puppy's healthy chewing behavior. 
Not only do you need Christmas presents,
Pet gifts playing toys
but so does your pet. This Christmas themed toy is full of Christmas spirit. Your pet will love this gift. Playtime for pets just got a whole lot more fun with this
Indestructible Christmas Dog Toy
. Your dog will love this toy. There are three styles to choose from to suit a variety of dog breeds.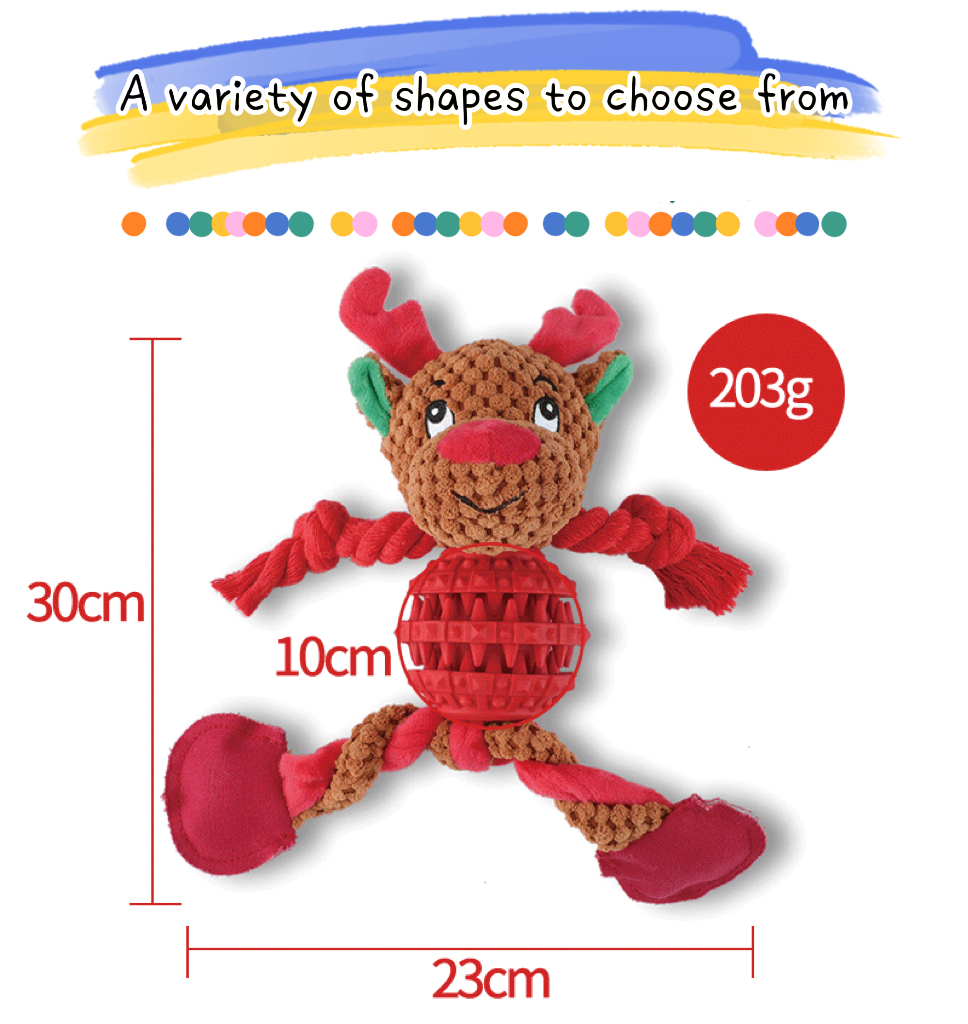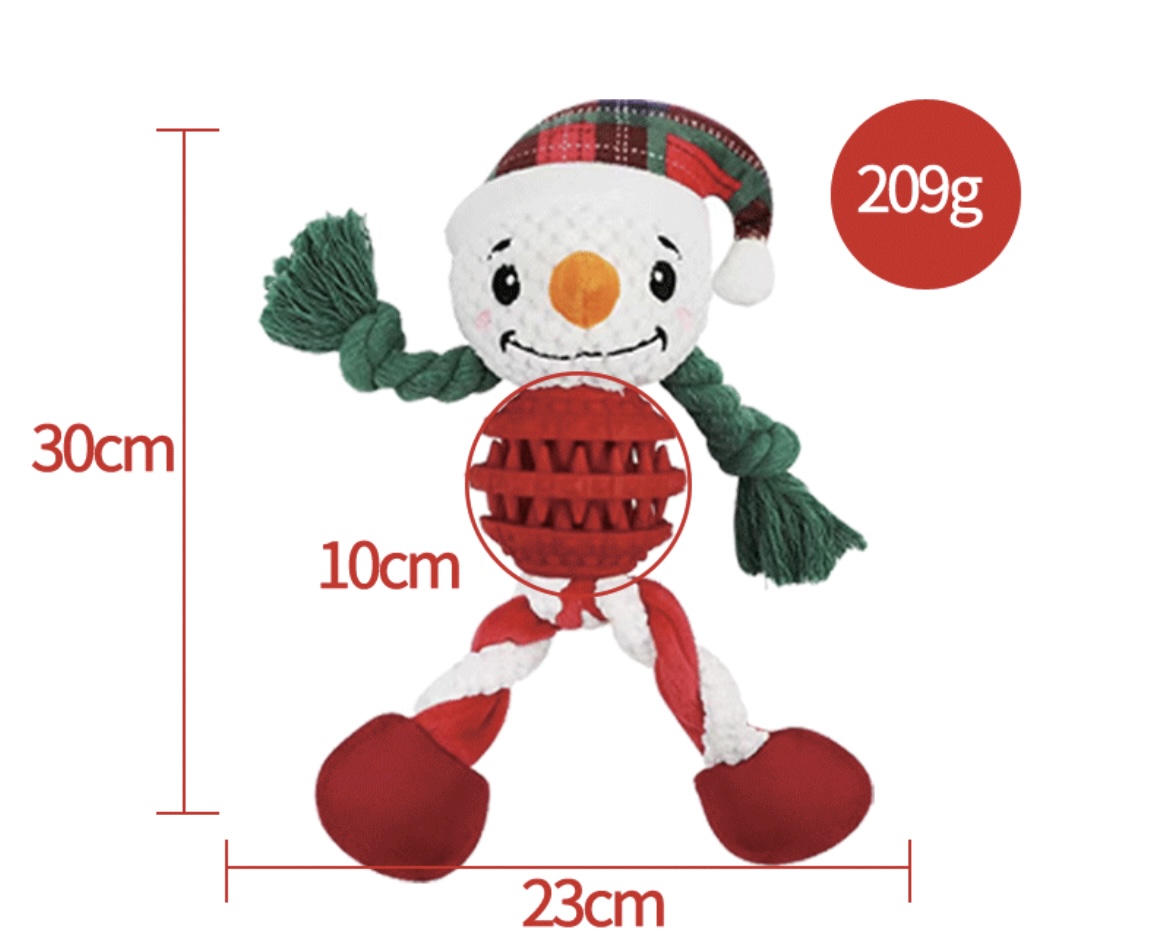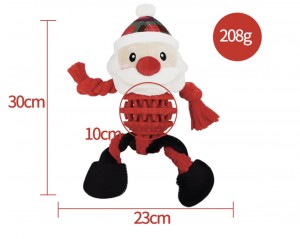 Christmas dog toys---TOP 2
First,

This 

D

og Christmas squeaky toys

 is made of high quality fabric, thick, durable and pet-friendly patterned flannel. Safe and high quality: These puppy dog teeth cleaning chew toy

s

 are made of PP cotton and premium plush. It is

durable

,

non-toxic

,

bite resistant

,

safe

and

washable

.
In general, can make your puppy healthier,
mentally stimulated puppies

are less likely to be

stressed

and

anxious

. When a dog is anxious in an

uncomfortable environment

, when he is bored because he is

not getting enough exercise,

and when puppies need to grind their teeth when they change their teeth, biting is their instinct and a game they never tire of. As a pet owner, you may want to

consider choosing

these p

uppy chew toys

for them to

distract your dog

from the furniture and minimize damage to it.
This

Christmas gift dog chew toys

funny interactive play has a donut look, and the color scheme is perfect for Christmas toys for dogs. Bright colors can stimulate your dog's
Christmas is coming,are you ready for your fur baby's Christmas gift?These are indispensable 
Christmas dog

 toy in the life of pet dogs and perfect for your fur baby as a birthday gift.especially for 3-6 month old puppies who are teething.Let the dog also feel the Christmas festive atmosphere~
So
squeaker toys plush toy

Christmas gifts for dogs
,Perfect for owners as a
pet Christmas toys.
Christmas dog toys---TOP 3
This toy is a pure

cotton chew toy

, which makes the product safer. It is delicate and strong. It is a indestructible dog toys for aggressive chewers that can accompany pets to play and have fun for a long time
.
B

rightly colored

C

hristmas dog squeaky chew toys can attract your pet's attention and reduce the pet's bad habit of biting furniture and slippers; these toys are portable and can be taken outside with your pet in sunny weather for activities such as toss games, chewing, tug-of-war, etc.
These 
C

hristmas gift dog chew toy funny interactive play designed with the Christmas theme and are made of colors of red, white and green twines in the shape of bones and crutches, which are designed to satisfy the atmosphere of Christmas and make your pet have a memorable Christmas

.
You can make these cute and fun

C

hristmas chew dog toys as
C

hristmas dog toys pack for your pet

.U

se these toys to interact and play with your pet, which will greatly enhance your relationship.
Can still act as
:
1.

A variety of Christmas-themed pet toys are

brightly colored

and can

attract pets' attention

.
2.

Easy to carry

, and you can take an

outdoor activity with your pet

on a sunny day.
3.

They can also be used as

beautiful Christmas decorations

 to decorate the Christmas tree.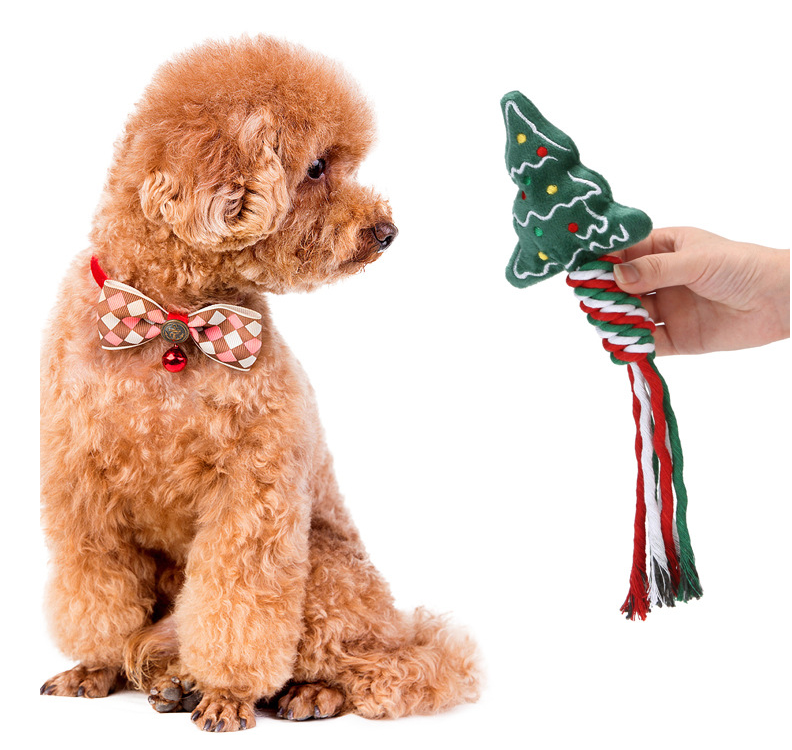 Christmas dog toys---TOP 4
These will make a

squeak plush dog toys
 

sound when your dog bites toys belly because each toy has an squeaker in the belly. And the

tough double rope design

will further promote the

dog chew toys funny interactive play

.
The internal filler of 

Christmas plush

dog toys is stuffed by the soft plush 
dog toys

. And the external material is

made of cotton

,

rubber

,

fabric and plush

, then they are durable, tough, washable, non-toxic and bite-resistant.
It is a multifunctional 

plush

dog toy.

Dog

 

squeak

 

plush toys

 are great for indoor or outdoor play,enriching your dog's daily life,keeping them active and healthy,boredom and anxiety when they are alone.
These

Christmas

plush

dog

toys are the

perfect gift choice

for your dog this unforgettable holiday and will bring endless smiles and lasting joy to all.
T

he

safe puppy teething toys

 are made of cotton, non-toxic and reliable material, safe for your pets to chew, also durable and can support long time use for your dogs.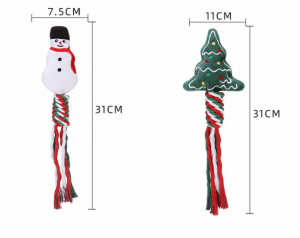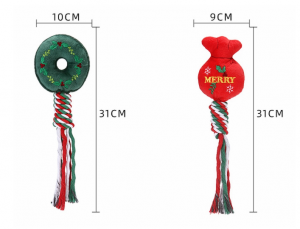 Christmas dog toys---TOP 5
The
Stuffed squeaky toys
contain an airbag inside, the squeaking sounds can attract the dog to play and satisfy the desire to chew.
Our plush babies also enjoy the mysterious gifts prepared by Santa Claus at Christmas. Christmas element themed toy sets are durable and come with a
beautiful Christmas gift bag

, the bright colors will attract your pet's attention and can accompany your pet through the wonderful Christmas time, and are also a great gift for your family with pets!Easy to carry and store all aggressive chewer dog toy, keep the room clean and bring holiday cheer to your pets.
Each

dog rope toys

 are perfect for you and your dog to play with and train your dog, enhancing closeness, to meet the different needs of daily life such as puppy teething, chewing, training and interactive games, while keeping your dog happy and entertained.
The

plush dog toy Christmas

 is made of soft natural plush material, it also has a waterproof layer inside, which can prevent dog's saliva from entering the stuffed cotton, easy for small, medium dogs to carry, toss, and roll around. Intensive fabric and better stitching make these toys more durable for dogs.
Chewing dog plush toy

 and

dog rope toy

 helps dogs clean teeth, massage gum and remove residues,
promoting dental health

.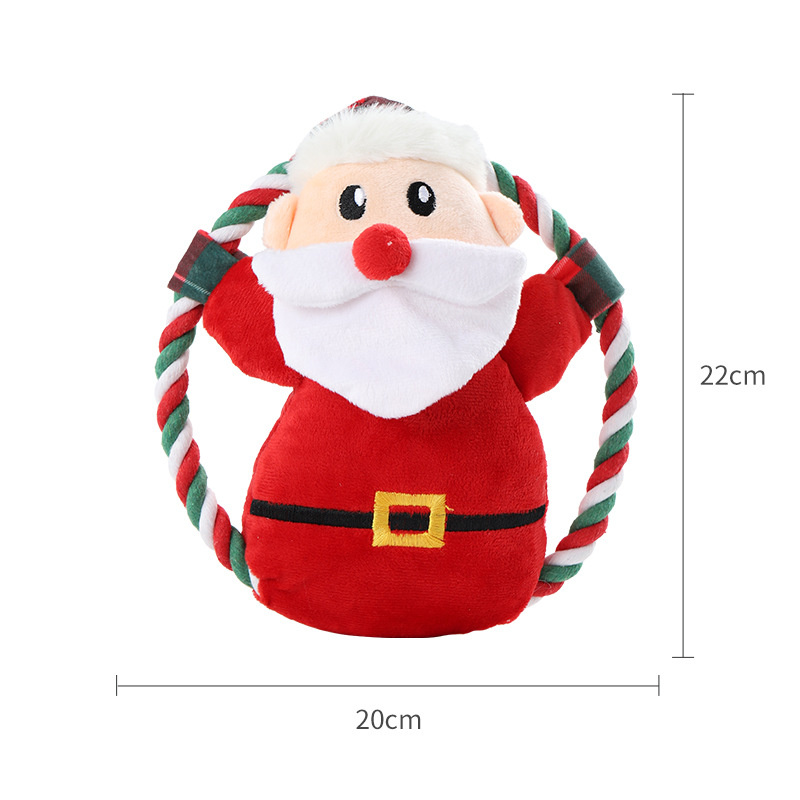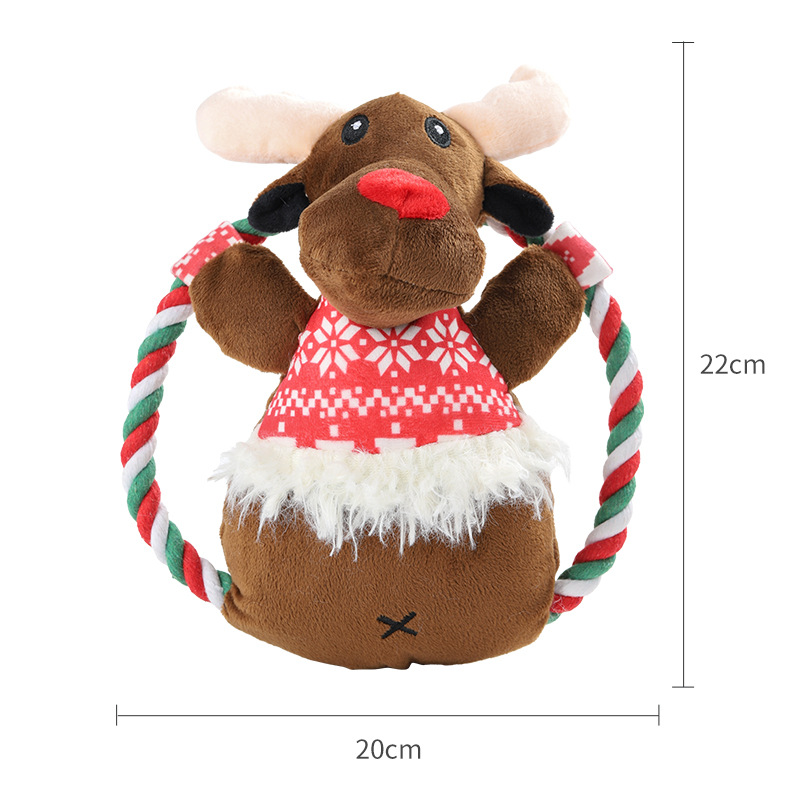 Christmas dog toys---TOP 6
The

Christmas

dog

toy

 comes in four different styles, with a whimsical shape and
squeaky sound designed

to

appeal to dogs

.
Gingerbread Man:
10*21cm

,Reindeer:

25*13cm

,Red:

22*10cm

,Green:

22*10cm

.Our Christmas pet toy set is big enough and

very suitable

for small 

dog

medium dog and large dogs.

This

Christmas dog squeak toy

 is designed for aggressive chewers. You can
press the toy's belly

to make a squeak to

get your puppy's attention

and get him interested in playing. Squeaking when a pet bites can make chewing more fun and

relieve boredom

,

anxiety

, and

depression

.
It not only the play toy for dogs, but also a perfect
Christmas decoration

 for your home. As the dog toy, it is suitable for our furry friend which can help them ease stress and relieve boredom. It also can improve the dental health, redirect bad biting behavior and be an indestructible

C

hristmas dog toy between you and your lovely pet!
I hope this article will help you to be aware of dangerous things that can cause injury to your dog and give your dog a memorable Christmas. 
When choosing a gift for your dog, choose the perfect gift for your dog and make them believe in Santa Claus. Your dog will be very happy.